Activities
In addition to annual meetings, the RSCJ has been engaged in numerous activities, highlights of which are shown below:
1. Annual Meetings
Our study club meetings have been held on an annual basis in principle. All participants are requested to present cases for mutual learning and stimulation. The latest annual meetings were held at Osaka Nakanoshima Center on April 15 & 16, 2009 and at Nagoya International Center Building on April 14 & 15, 2010.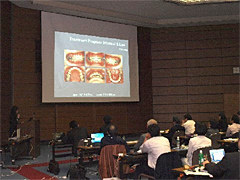 Dr. Miho Ukai is presenting a case.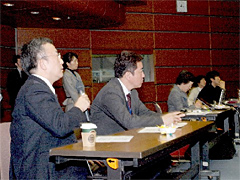 Discussion on diagnosis and treatment progress of a presented case.
Dr. Ichiro Takahashi is asking a question.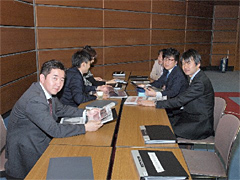 All presented cases are filed and displayed for further study by participants during breaks.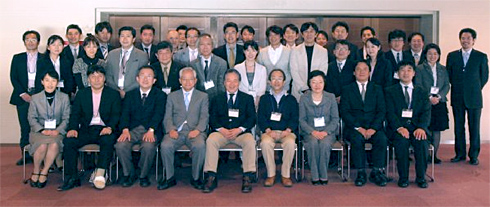 2. Participation in RWISO
The Roth Williams International Society of Orthodontists (RWISO) is an international organization comprised of orthodontists practicing the Roth philosophy. Our study club has been participating in the RWISO conferences. Every year, several speakers represent the RSCJ for presentation. We hosted the 2007 Annual RWISO meeting in Kyoto, for which practicing orthodontists gathered from all over the world. In addition to two lectures by RSCJ members, posters were presented by the RSCJ members. The poster presentations were so highly praised that the members were asked to present posters again at the following Denver meeting. Programs for companions, such as flower arrangement and kimono dressing, were also available for accompanying family members and friends to enjoy and learn more about the Japanese culture.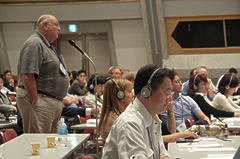 Active discussion with tough questions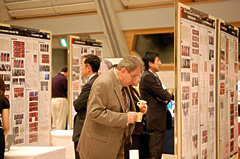 Much-loved poster presentation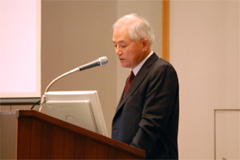 Dr. Masaru Sakai is giving a lecture.
His lecture was highly evaluated and he was selected to be a headline speaker for the 2008 Denver meeting.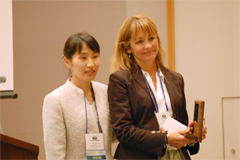 Dr. Bardeci, RWISO President for 2007, and Dr. Komatsu, President-elect for 2008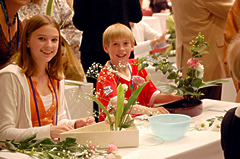 Flower arranging lesson for companions for cultural exchange.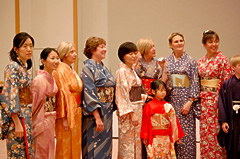 Kimono dressing lesson for companions. Conference attendees joined in during a break.
3. Table Clinics at AAO
Our study club gave table clinics at the 1999 San Diego and 2001 Tronto AAO meetings and received many visitors, including Dr. Roth.
4. Case reports and scientific presentations at JOS
Case reports and scientific papers on the themes of jaw position and Roth Philosophy were presented at the 1998 Sendai, 1999 Hiroshima and 2000 Osaka JOS (Japan Orthodontic Society) meetings. Dr. Kazumi Ikeda was invited to the 2002 JOS meeting in Nagoya as a speaker and gave a lecture on the Roth philosophy. Cases treated based on the Roth philosophy were displayed by the study club members at the same meeting. The RSCJ will continue to be active in conveying our messages to the orthodontic community at large.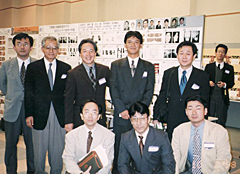 5. Publication of Casebook "Roth Orthodontics"
The casebook "Roth Orthodontics" was published by interested members in 2003.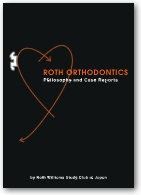 A casebook compiled by 23 members of the RSCJ who are practicing the Roth philosophy is the first book on the philosophy ever published in the world. The book is full of instructive cases. Diagnostic tools of the Roth philosophy are described in detail in the beginning of the book to facilitate understanding of the way the cases were diagnosed. A limited number of copies (1,000) are now available.
264 colored
pages: Size A4 (210 x 297 mm)
Interested members of the study club contributed completely treated cases with full records to compile this Roth philosophy casebook on the Roth philosophy. The English version was sold in the US. The book, our joint work we are very proud of, was highly evaluated in the AJO-DO Book Review.

Book Review in the November 2004
issue of AJO-DO »
Book Review text (PDF)
The casebook, fresh off the press, was presented to Dr. Roth. We cannot forget his delighted expression with the book in his hand.

Casebook presentation to Dr. Roth
Click here to Play Video »
6. Multidisciplinary Educational Seminars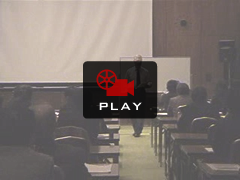 Educational seminars have been held, though on an irregular basis, to expand the members' knowledge. These include two orthognathic surgery seminars by Dr. Schendel (April 2001, November 2002), an implant seminar by Dr. Rosenberg (March 2002) and a TMD seminar by Dr. Isberg (October 2005).
7. 10th Anniversary Open Seminar
An open seminar was organized to commemorate the 10th anniversary of the study club in 2005. It was held at the Sasakawa Hall with presentations by study club members. We are now preparing for the 15th Anniversary Open Seminar.