Effects of Orthodontic Treatment on the Face
The teeth are one of the determinants of facial appearance. The roots of the teeth account for 40% of the main part of the face that extends from the eye brows to the chin. This fact alone suggests that orthodontic tooth movement has a great impact on the face. Anteroposterior and vertical positions of the anterior teeth in relation to the lip, inclinations of the anterior teeth and chin position are of particular importance.
Before treatment
Teeth are fairly straight, but the upper and lower anterior teeth are extremely protruded, making lip closure difficult. Her chief complaint is protruded lips.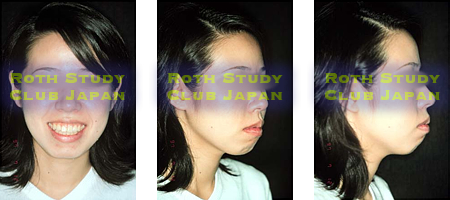 After treatment
Lip strain was eliminated. The lips have a nice S-shaped curve without strain. The lower third of the face is well balanced. Note the chin position. The throat length, the distance from the neck-throat junction to the chin, was increased. The mandible was rotated counterclockwise while the condyles were kept in place, resulting in forward movement of the chin as if the jaw had grown. Four bicuspids were extracted. It is important to inform the patient of a treatment plan with specific goals and what needs to be done to accomplish these goals. Treatment results are forecasted and presented, so that the patient will know what to expect before the start of treatment.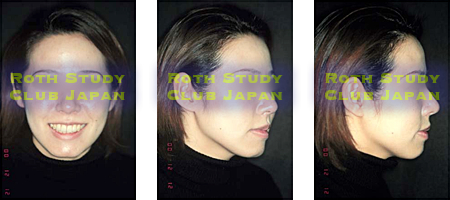 Growth and development must be taken into consideration in children. Maxillary growth is nearly complete by age 12 years, while mandibular growth continues until the age of around 15 years for girls and 18 years for boys. When formulating a treatment plan for a growing child, it is necessary to consider growth of the jaws as well as treatment-related facial changes. This is like an interceptor missile that catches an incoming target missile by calculating its direction and speed. Effects of tooth movement can be more profound in children than adults.