Case Reports
These cases were presented at international meetings and are posted below by courtesy of the patients.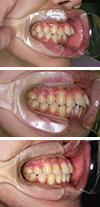 The patient presented with the chief complaint of "buckteeth" and "crooked front teeth".
The case was reevaluated following stabilization of the temporomandibular joints, which enabled accurate diagnosis.
Orthodontic treatment with constant attention to condylar position and the help of remaining mandibular growth led to
favorable results.
Positive remodeling of the joints was also observed.
Age at initial exam: 16y6m
Sex: Male
Medical history: N/A
Family history: Both his older and younger sisters had anterior crowding
Chief complaint: Maxillary protrusion, upper and lower anterior crowding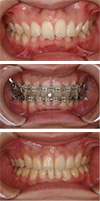 The patient has persistent discomfort in the temporomandibular joints since junior high school.
Her face was characterized by severe mandibular retrusion, marked lip protrusion, and a gummy smile. She showed a deep bite, a congenitally missing lower left lateral incisor, and occlusal wear and gingival recession on the upper canines.
CT imaging of the joints revealed marked deformation of the condyles. Condylar remodeling was observed after splint therapy. When a stable mandibular position was obtained, a final diagnosis was made and surgical-orthodontic treatment was planned.
Osteotomies of the maxilla and mandible led to functional occlusion, profile improvement, alleviation of the joint symptoms, and elimination of snoring.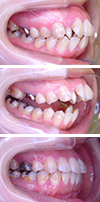 In the present case, orthognathic surgery was hastily postponed due to the onset of pain in the right joint and the finding of progressive condylar resorption (PCR) on CBCT during pre-surgical splint therapy. Pre-surgical splint therapy was continued for the next two years before orthognathic surgery was performed. After surgery, pain and PCR recurred in the right joint. Post-surgical orthodontic treatment was therefore carried out with the use of a nighttime splint. The patient was almost free of TMJ symptoms post-treatment. Condylar remodeling as well as favorable occlusal and facial results were obtained.
Age at initial examination: 25y3m
Sex: Female
Chief complaint: anterior crowding and lip protrusion
temporomandibular disorder:
Occasional pain in the right joint
The right joint locked in the previous year, which resolved spontaneously.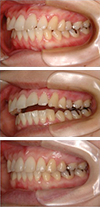 Occlusal instability may remain after orthodontic treatment in patients presenting with unstable mandibular position. Some of these patients with CO-CR discrepancies develop an open bite post-treatment. In order to avoid this situation, we should evaluate the status of the temporomandibular joints at initial examination, and stabilize the joints with splint therapy before starting orthodontic treatment. This patient has had a teeth grinding habit since primary school, and clicking in the left joint during mouth opening since high school. She exhibited occlusal wear of all four canines and four first premolars. Significant CO-CR discrepancies were observed on mounted models. MRI revealed anterior disc displacement with reduction in both joints. This case report presents the splint therapy and orthodontic treatment of a patient with maxillary protrusion and unstable joints according to the basics of Roth Philosophy (occlusal equilibration, and positioner wear after appliance removal).
Age at initial exam: 26y11m
Sex: Female
Chief complaint: Maxillary protrusion
Can't find comfortable bite position
Lip incompetence
Medical history: N/A
Family history: The mother had maxillary protrusion.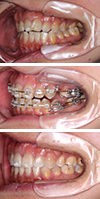 The patient, 34y1m Japanese female, had a Class I molar relationship, a posterior crossbite due to maxillary arch constriction, and an anterior open bite.
er joints were stabilized with splint therapy before orthodontic treatment because she reported a history of locking of the jaw 15 years earlier and an unstable mandibular position.
She wore a splint for 8 months during orthodontic treatment to maintain stability of the joints.
Anchor screws were used to close the open bite and obtain a solid and stable occlusion.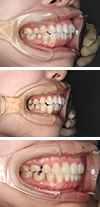 A 35-year-old female presented with the chief complaint of a protrusive lip profile and difficulty in closing her lip. Examination of the temporomandibular joints revealed clicking in the right joint. Splint therapy stabilized the patient's jaw position and improved her symptoms. Following stabilization of mandibular position, orthodontic treatment was initiated with a plan to extract the first premolars on the left side and the second premolars on the right side. Temporary anchorage devices were utilized to maximize anchorage for upper arch and control the vertical height of the patient's upper molars. After 38 months of overall treatment, the patient's overbite, and incisor irregularities has been corrected, functional occlusion was established and her profile was improved.