Greetings from President
My name is Kazumi Ikeda. I represent the Roth Study Club Japan. It has been 30 years since the beginning of my orthodontic career. While some of my colleagues approaching retirement may begin to lose interest in their work, I find orthodontics increasingly interesting.
Over 100 years ago, Edward H. Angle, the father of modern orthodontics, presented to the orthodontic community the "Edgewise technique" for straightening teeth. The technique won overwhelming support and prevailed throughout the world to pave the way for development of modern orthodontics. However, the orthodontic profession, because of its long history, has somehow circumvented the problems that have surfaced over the years. Tooth alignment has always been the subject of greatest interest to orthodontists. Thus, the purpose of orthodontic treatment has been to obtain a good bite with emphasis on the form of dentition, rather than its function.
There was a clinical orthodontist who questioned this major trend of orthodontics. The clinician was Dr. Roth. The prevailing notion at the time was that the improvement of tooth alignment or "straightening of teeth" would automatically lead to better function of the jaw including the temporomandibular joints, better facial esthetics and stability of end results, when in fact this was not the case. He recognized the need for radical change in orthodontics. In any society, people are resistant to change particularly when they have over 100 years of history of doing things the same way. No one would want to be denied of his past. Dr. Roth was already teaching his philosophy in the US. Upon request from overseas, he began to travel to various parts of the world to lecture and teach the Roth philosophy of orthodontics. The baton of legacy left by Dr. Roth has been handed to motivated orthodontists throughout the world.
In Japan, over 30 orthodontists have been carrying on the legacy and pursuing excellence in orthodontics to pass on to future generations. The underlying concept here is to know the status of the joints and align teeth on the foundation of stable joints while paying attention to facial esthetics and periodontal health. It is about time to bring an end to the traditional orthodontics aimed only at straightening teeth. Our way is not an easy way, but we have found it to be the ideal way.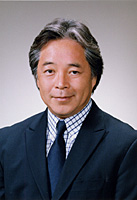 Kazumi Ikeda, President
Roth Study Club Japan